February 7, 2020
In this newsletter:
President's Message
BCPF Conference 2020: Empowering Employment
Call for Board Nominations
Advocacy Leadership of the Year Award
Your Voice Matters
Advocacy Tips
BCPF Recommends!
President's Message
Hello BC People First Members, Volunteers, Community Partners, and Supporters!
It's hard to believe the month of January has already come and gone but we welcome 2020! We are looking forward to another great year filled with advocacy efforts and community building. BC People First will continue to advocate for "Nothing about US, Without US" through workshops, presentations, letter-writing campaigns, public speaking, community engagement, and the empowerment of Self-Advocates across the province.
I am happy that BC People First was able to present at the 2019 Housing Central Conference this past November. At this conference, over 1,600 delegates from around the province come to learn more about and celebrate the successes of the affordable housing sector. We do appreciate how much work is done in our province to ensure all people have access to affordable housing – but we also know that our work is not done and how important it is to talk about what this truly means to us as Self-Advocates. Our presentation, titled Our Home Hour Way, is about what inclusive housing means to us and what needs to be included in provincial affordable housing access decisions. We were able to share our opinions and lived experiences with managers, service providers, decision-makers in the industry – and help them understand that home is not just shelter but a place where we feel included and can participate in our community.
We are busy planning for our 2020 Conference, happening on March 25th in Nanaimo, BC this year. If you can make it to Nanaimo for the day, we'd love to see you there! It is going to be a fantastic day and you can find more information below.
We need your help! If you know anyone that would be interested in being a BC People First Member you can share our Membership Form with them. If you know any companies or service providers in your area that need to turn one or more of their documents into plain language please tell them about our Plain Language Translation Service. We can take difficult forms, handbooks, or other documents and make them easier to read and understand for everyone.
Thanks so much for your continued support and involvement with BC People First!
Sincerely,
Jo-Anne Gauthier, President of BC People First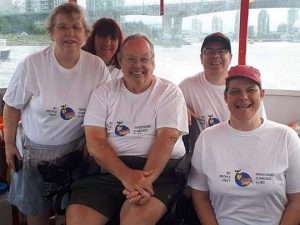 A few members of our BC People First team, from left to right: Lorie (Board Consultant), Jo-Anne (President), Dave (Vice-President), David (Member), Dara (Director)
BCPF Conference 2020
Attend our annual one-day educational conference for self-advocates. Our theme this year is Empowering Employment.
Help us spread the word! Please share this information with your friends, family, or colleagues on Vancouver Island or those able to get to Nanaimo for the day. For ages 15+. Anyone interested in learning employment skills such as conflict resolution, receiving feedback, self-esteem building, interview tips, employee rights, and much more is welcome to attend.
Hosted by BC People First. Come learn skills and tools to advance your job search, keep long-term employment, and stay job-ready for the future! There will be workshops, presentations, activities, and prizes, plus lunch is included!
Wednesday, March 25th, 2020 | 8:30am to 4:30pm
Beban Park Social Centre, 2300 Bowen Road, Nanaimo BC
TICKETS CAN BE PURCHASED HERE. If you need to pay by cheque instead, please get in touch with us.
Call for Board Nominations
NOTICE OF ALL GENERAL MEETING & BOARD NOMINATIONS:
Wednesday, March 25, 2020 | 3:00 pm – 4:00 pm
Location: Beban Park Social Centre | 2300 Bowen Road, Nanaimo, BC
All members able to get to Nanaimo, BC are invited and encouraged to attend if possible!
Nominations are due by March 16th, 2020. Elections will be held at the All General Meeting Wednesday, March 25, 2020 | 3:00-4:00pm

Being a member of the Board of Directors of BC People First is a very important role and a rewarding opportunity. As a Board member, you will work to promote the inclusion and full citizenship for people who have been labelled with a developmental disability, you get to help decide on what the Society will focus on, what projects to work on – you get to participate in special training, learn new skills and make wonderful new friends
Positions up for Election:
Director The Kootenays – located in this area of the province (ie. Cranbrook, Nakusp, Nelson, etc.) – 3 year term
Director At Large – located anywhere in British Columbia – 3 year term
Time commitment:
One meeting via conference call per month (these will be on the 2nd Thursday of each month). Joining projects, events and committees may require extra calls per month.
Minimum of 5-10 hours per month working on BCPF projects, committees, events, presentations, meetings, etc.
Attend an in-person meeting 1 or 2 times per year, 2-3 days at a time
Requirements:
Be a member of BCPF in good standing. Membership is FREE and you can join anytime.
Have a passion for our values and mission.
Attend all monthly board meetings
Agree to adhere to the BCPF Code of Conduct, representing yourself and the Society in a positive way.
Have a person that you trust to advise/help/support you in the role as needed (this person will give their contact info to BCPF).
To Nominate:
Email us your name, email address and phone number, the position you are nominating for, and a brief biography about you and why you want to be a Director of BCPF.
Members can nominate other BCPF Members but please get permission before nominating someone else.
Click here to find full details about Board Nominations on our website.

Advocacy Leadership of the Year Award
BCPF has opened nominations for our first ever Self-Advocate Leadership of the Year Award that will be announced at our Employment Conference for Self-Advocates on March 25, 2020.
This award showcases the importance of advocacy and encourages all self-advocates to continue to lead and to be inspired. The winner will receive a $200 honorarium award (to assist in their advocacy efforts) along with a winner's plaque.
Any Self-Advocate labelled with an intellectual disability living in British Columbia is eligible for this award after being nominated by a peer, colleague, family member or support worker. 
NOMINATE SOMEONE TODAY! Nominations need to be submitted by 5pm on Thursday, February 27th.
Find full details and the NOMINATION FORM & GUIDELINES by clicking here.

Your Voice Matters
Calling all Members! We need your feedback, let us know your thoughts. Please reply to this email with your answer to the following question.
Question: What do you wish your parents or guardian had said or done for you while you were in school – to help support your needs or wants at school? What rights of yours do you wish you or your guardian/parent had stood up for when you were in school?
Information provided will be used to help us create an advocacy handout for students in elementary schools across British Columbia. We hope to hear back from you about this – please reply by March 15th.

Advocacy Tips

When advocating for your rights and needs it is important to share your experiences with others. Stories can be a very powerful way to help others understand your view and why you need or want something in your life to change. Self-advocacy is the ability to speak-up for yourself and the things that are important to you. Self–advocacy means you are able to ask for what you need and want and tell people about your thoughts and feelings.
Advocacy is not just a word – it takes action to exist. Go out in the community and talk to people that can help you, try writing your city councillor or MP about what decisions need to be made within the political, economic, and social systems of our province. Stay tuned for more information in our newsletters throughout the year to learn more about self-advocacy and ways to take action.

BCPF Recommends!
Free Energy Saving Kit from BC Hydro:
If you live in an income-qualified household you could qualify for a free energy saving kit to help you save energy and make your home more comfortable all year-round.
Each kit includes simple, energy-saving products that you can install yourself. With this kit, you can seal up the drafts around your home, save on lighting costs, and reduce your home's water use too.
Find out full details about the kits from BC Hydro by clicking here
Self Advocate Net is now accepting new story submissions! 8 new stories are published per month and selected stories receive $100 each.
For 2020, stories should be 250-350 words stories about Success and Achievements:
Have you achieved a goal related to employment, learning new skills or other things?
Share about a recent success that you have had.
Have you overcome any challenges lately? Readers would like to hear about it!
To find the SUBMISSION FORM and for more information please click here.
For some of us, reading about others' journeys can be inspiring and educational.
Here's a book our members loved reading and recommend for others! Comic Sense by Nancy Mucklow.
Copyright © BC People First 2020
Our mailing address is:
227 6th Street New Westminster, BC V3L3A5
This above can click here as well