Selfadvocatenet.com Recipe for the Month of October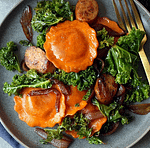 What's the secret to making store-bought butternut squash ravioli even more delicious? Add apple-chicken sausage, tender greens and lots of caramelized onions.
We add a bit of sugar to help the onions caramelize faster, but feel free to omit it (just cook the onions a bit longer if you do). Buy prewashed chopped kale to cut down on prep time.It all adds up to an easy dinner that's ready in just 20 minutes.  Carolyn A. Hodges, R.D.
Tips
Tip: The sugar is used in this recipe to speed up the caramelization process of the onions. If you choose to omit the sugar, you'll have to cook the onions for longer to achieve the caramelization.
Nutrition Facts
Per Serving: 408 calories; protein 10g; carbohydrates 54.3g; dietary fiber 3g; sugars 6.8g; fat 15.6g; saturated fat 3.2g; cholesterol 49mg; vitamin a iu 3905.3IU; vitamin c 35.8mg; folate 44.9mcg; calcium 73.9mg; iron 3.5mg; magnesium 17.5mg; potassium 205.6mg; sodium 567.5mg; thiamin 0.1mg. Exchanges:
3 starch, 2 1/2 fat, 1 lean protein, 1 vegetable
This Recipe is a website called EATWELL go to the link here