Written by Jodi Shanoss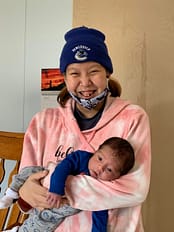 Hi my name is Jodi. I am a Gitxsan woman originally from Kispiox.
Previous to Covid I only had two children. A nine year old and a three year old. Life can be hard living on PWD and making ends meet when you have kids. But my kids are the most important thing in the world to me, always my top priority.
The pandemic lockdown was hard, and you can imagine my surprise when I found out I was pregnant with my third baby and facing little support. Through the pandemic many supports were shut down, but my support worker helped connect me to a midwife that helped me lots. I had a healthy pregnancy; and I had my first home birth.
Baby Allen was born March 15, 2021. I named my baby after my late brother. I am strong and excited to teach my kids about their Gitxsan culture.