Selfadvocatenet.com Recipe for Month of August 2021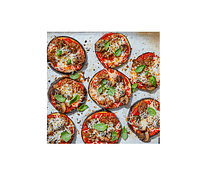 These eggplant pizzas have all the classic flavors of a real pizza without all the carbs.
Opt for spicy Italian sausage if you like the heat! Serve these mini pizzas with a green salad on the side to complete the meal. Julia Levy
Active: 15 mins
Total: 40 mins
Servings: 4
Tips
Equipment: Parchment paper
Nutrition Facts
Per Serving: 214 calories; protein 12.1g; carbohydrates 10.7g; dietary fiber 3.7g; sugars 5.6g; fat 14.4g; saturated fat 4.6g; cholesterol 31.8mg; vitamin a iu 480IU; vitamin c 4mg; folate 40.2mcg; calcium 219.8mg; iron 0.9mg; magnesium 33.5mg; potassium 491.1mg; sodium 452.7mg.
This on a website called EatingWell go to their website. Here want details of this recipe click here