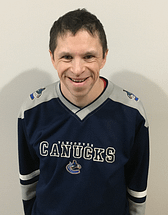 Written By: Richard McNaughten
Since 2006 I have been volunteering and helping out at the Port Moody Fire Hall and the Delta Fire Hall.
I feel really good about doing this work and helping when they need it. I have two stories that are examples of what happens. The first is about a Port Moody fire and the second is about the Delta Fire Hall. In my first story, I was shopping in Port Moody with the fire fighters getting groceries and suddenly a call came in on the fire fighters' dispatch and we all put on our fire fighter gear in front of the store. We all got into the fire truck and the sirens got turned on. We stopped at the fire hall where they dropped me off. They left in a hurry.
In my second story, there was a call from dispatch in the fire truck. I was in but my boss was inside in his house and did not hear it. The call came again the second time. I told the dispatch to stand by. I went inside the house to get the fire fighter and told him to hurry because of a call on dispatch.
The fire fighter got on the fire truck and answered the call on dispatch and we had to hurry to Fire Hall 1. When we arrived, I got to have my lunch and talk to some kids and parents that were there. I had a meeting with the fire firefighters and they told me to get ready because I will be part of a practice drill. They told me to put my fire fighter gear on and go inside the fire truck.
They turned on the flashing lights and the sirens while doing the practice drill with me. For the practice, I held the fire hose and sprayed a tiny bit of water. I told the kids and parents to stay back because they were getting close while watching the practice drill. I did what the fire fighter told me. Eventually the fire fighters told me to go back inside the station and I said bye to them as it was time for me to go home.
If you want to get involved at a Fire Hall you can go online and check it out on YouTube .My neighbor was a fireman and I got some information from him, now he is retired. One of my friends from school he is a fireman and I got some help from him. You need to go to the Justice Institute in New Westminster if you want to become a firefighter as a paid job.