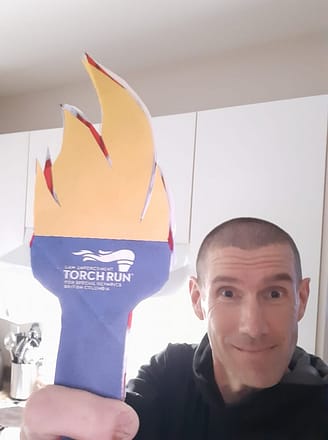 Mission's Bryce Schaufelberger is a man of many talents
By Spencer van Vloten
BC Disability
November 3rd, 2021
Founder of SelfAdvocateNet.com and champion athlete, Bryce Schaufelberger's work ethic and tireless commitment to helping others have made a worldwide impact.
This is his story.
THE EARLY DAYS
It started 21 years ago.
At the time, Bryce Schaulfelberger was a busy self advocate, working in a small group to increase the community participation of persons with intellectual disabilities in Mission. But he wasn't satisfied: he wanted to spread the word about inclusion and self-advocacy to more people in his community. Back then few people were using the Internet as a platform for advocacy and empowerment, but Bryce was thinking ahead and saw an opportunity.Along with his boss and mentor, Cam Dore, he started building a website from scratch. He added community directories, tips and guides for self advocates, stories, and games – things that would be useful to self advocates no matter what they were looking for.Gradually his vision took shape in front of him, and the result was SelfAdvocateNet. At the time Bryce's goal was to reach more people regionally, around Mission, Maple Ridge, Abbotsford, and Chilliwack, and he quickly accomplished that goal.But, little did he know, SelfAdvocateNet would grow into something much bigger.
GROWING AND GROWING
Two decades on from its creation, SelfAdvocateNet has grown beyond what Bryce ever imagined. The site's reach is worldwide, it's been featured by Community Living BC and Inclusion BC, and it's highly respected for the wealth of valuable resources provided to name just a few, SelfAdvocateNet's been a leading hub for information during the pandemic, helping keep British Columbians updated with the latest public health developments. It's provided plain language coverage of provincial and federal elections, features a directory of self-advocacy groups across BC, and includes a community calendar that self advocates and organizations can use to publicize their events.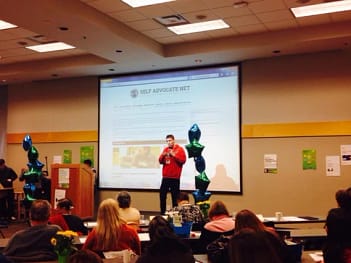 Bryce giving a presentation on SelfAdvocateNet
It's also a platform for persons with disabilities to share their stories An example of this is SelfAdvocateNet's partnership with Disability Without Poverty. Through this, Canadians with disabilities have been able to share how poverty impacts them, and how extra financial support from a federal disability benefit would change their lives. For Bryce, it's all surpassed the goal he had for SelfAdvocateNet 21 years ago."It's great because I never imagined I'd be doing something like this. People told me it would be a small-time project, but I persisted and it kept growing and growing and growing."It hasn't all been smooth sailing though. There have been challenges along the way. A website is costly to maintain, sometimes there are technical challenges, and learning how to use the various plug-ins and buttons for the site was tricky at first. But Bryce has overcome these challenges and learned from them, applying a tireless work ethic that's also served him well in another passion of his…
THE ATHLETE
While SelfAdvocateNet remains a big focus for Bryce, it's not his only one. An avid athlete and sports fan (especially of the Calgary Flames!), Bryce excels at soccer, hockey, softball, and basketball.His talent in soccer even led him to a national championship representing BC, and he then traveled the world, competing for Canada in the Special Olympics World Games in Greece, China, and LA.

Bryce winning gold for BC at the nationals
(left), representing Canada in Shanghai (centre), and returning with a gold medal (right)
It was during his trip to China that one of the biggest moments of his sporting career took place, winning a gold medal for Canada in a dramatic shootout victory. True to his character, Bryce doesn't regard it as a personal victory, but a victory for all the supporters and allies who encouraged him and helped him reach his potential. But he's still not done.
ASPIRATIONS
SelfAdvocateNet continues to evolve and Bryce has big plans for the future. He's looking to add new members to the team, and, seeing fires tear through Lytton this summer, wants to use his website as a platform to fundraise and provide support to communities in crisis. He's also working with the Self Advocate Leadership Network, finalizing a strategic plan for self-advocates to lead anti-racism advocacy and outreach to youth in schools.And, as much as ever, he wants people to recognize that persons with intellectual disabilities want to give back to their communities as much as anyone else."We might not be perfect, but we have aspirations, we have heart, and we want to be included. We want to help in people's lives and make a difference." And that's exactly what Bryce Schaulfelberger is doing.
Spencer van Vloten is the editor of BC Disability.
This Story is on a website called BC Disability go to the link

here