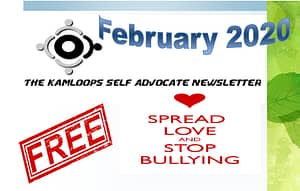 The Kamloops Self-Advocates is a
Newsletter for people with diverse abilities
published by Krystian Shaw.
Febuary Edition KSA Newsletter 2020 contains in

This month's theme
February is an exciting month. We get to celebrate Valentine's Day and love. Valentine's Day can be exciting, even for those who don't have a love interest in their life.
We can use February 14th as a special day to tell everyone who is important in our lives just how much we love them.
Love is a powerful tool! It is about kindness and compassion, about connecting with people and accepting them as they are.
When we see people and are seen by others, we are less likely to do things or say things that are hurtful. We can strive to be kinder.
We can try to see things from another's point of view. We can have conversations.
We also have a chance to raise awareness about Pink Shirt Day and ways to reduce bullying.
Remember if you see someone being bullied, be an upstander not a bystander. It could save the life of the one being bullied and can also get help for those who bully.
Knowledge is also power – you might not feel so stuck or unable to deal with what is happening.
You might have a better idea of who to turn to. Make sure to check out some of the articles in this month's newsletter to learn more about staying safe.
So, have fun, be safe, and show love when on the Internet.
Click here to read the
KSA Feb 2020 (1)
If you would like to contact the newsletter, you can
Contact us at:113-540 Seymour St,. Kamloops, BC V2C 2G9
Office phone: 250-828-1344