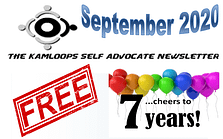 The Kamloops Self-Advocates is a
newsletter for people with diverse abilities
published by Krystian Shaw.
September Edition of KSA Newsletter 2020 contains in

It is back to school and summer is coming to an end, but, don't worry, we've got lots to keep you entertained in this month's newsletter.
Join us as we celebrate our 7th anniversary and some great awareness days.
September 7th is Labor Day. Labor Day was created to celebrate workers rights and achievements in labor unions.
It is a great month to promote mental health! September 10th is World Suicide Prevention Day. There are many people who have mental health issues and you are not alone.
Be sure to check out the article from the Crisis Centre of BC to learn more.
September 17th is International Country Music Day. We think the great article from an inspirational country singer and songwriter will help you kick start this fun day.
We hope you will love the articles, the awareness days, and the jokes. Please let us know how you like the articles and if you have different ideas for our future newsletters.
We've seen lots of changes in the past 7 years, but one thing that hasn't changed is our goal of raising awareness, while reducing stigma and dis-crimination for all.
We are passionate about promoting mental health and disa-bility awareness topics with a focus on what people can do.
And, we always love reporting on success stories about people with diverse abilities.
Happy 7th Anniversary and we look forward to another great year!
Click here to read the newsletter KSA Sept 2020 (1)
Do you have a story idea or an event you think would be interesting for our readers?
If you would like to contact the newsletter, you can Contact us at:
113-540 Seymour St,. Kamloops, BC V2C 2G9
Email thekamloopsselfadvocate@yahoo.com
Office phone: 250-828-1344