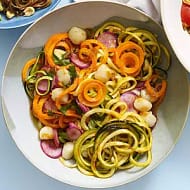 Selfadvocatenet.com Recipe for month of June 2022

Spiralized zucchini noodles are the base for this healthy sesame noodle recipe.
Shrimp or baked tofu can be swapped for the scallops if you prefer.
EatingWell Test Kitchen
total: 20 mins
Servings: 4
Vietnamese Spiralized Sesame Noodles with Scallops
Ingredients
Ingredient Checklist
3 tablespoons toasted (dark) sesame oil
2 scallions, chopped
1 tablespoon minced garlic
2 teaspoons minced ginger
1 teaspoon brown sugar
2 tablespoons reduced-sodium soy sauce
1 tablespoon fish sauce
1 tablespoon lime juice
5 cups spiralized zucchini noodles, from about 2 medium zucchini
8 ounces bay scallops, cooked
1 cup spiralized or shredded carrots
1 cup slivered radishes
3 tablespoons chopped fresh basil
Directions
Instructions Checklist
Step 1
Combine sesame oil, scallions, garlic, ginger and brown sugar in a small saucepan. Heat over medium heat until starting to sizzle. Cook for 15 seconds. Remove from heat and stir in soy sauce, fish sauce and lime juice. Transfer to a large bowl and add zucchini noodles, scallops, carrots, radishes and basil; gently stir to combine.
Tips
Make Ahead Tip: Refrigerate sauce and noodle mixture separately for up to 1 day; toss together before serving.
Tips
People with celiac disease or gluten-sensitivity should use soy sauces that are labeled "gluten-free," as soy sauce may contain wheat or other gluten-containing sweeteners and flavors.
Nutrition Facts
Serving Size: 1 3/4 cups
Per Serving: 221 calories; protein 14.5g; carbohydrates 12.8g; dietary fiber 2.5g; sugars 5.6g; fat 12.9g; saturated fat 2g; cholesterol 22.7mg; vitamin a iu 5078.3IU; vitamin c 29mg; folate 53.1mcg; calcium 65.1mg; iron 1.1mg; magnesium 69.4mg; potassium 694.3mg; sodium 735.3mg; thiamin 0.1mg; added sugar 1g.
Exchanges: 1 1/2 vegetable, 1 1/2 lean meat, 2 fat
This recipe is on website called eatwell.com go to the link here