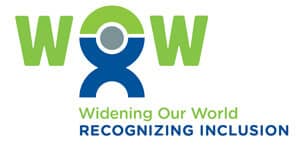 CLBC is pleased to announce the four inclusion champions from across the province chosen as this year's Widening our World (WOW) Award recipients.
Hailing from Kamloops, Vancouver, South Surrey and Victoria, this year's recipients were selected by a provincial committee of self advocate leaders, community members and CLBC staff for their commitment to helping people to stay positive, connected, and hopeful through the pandemic.
We congratulate the recipients and everyone who was nominated this year. We also thank everyone who took the time to submit a nomination to recognize someone who is promoting the power of inclusion.
Since 2009, CLBC has presented WOW awards to recognize British Columbians who are creating opportunities for people with developmental disabilities to lead full lives, have rich relationships and choices in how they live and work.
The 2021 CLBC WOW Award Recipients
Charmly Smith – South Surrey
Self-Advocates of Semiahmoo Involvement Coordinator & Self Advocate Leadership Network Member
Charmly was nominated by her colleague, Jillian Glennie. Charmly created innovative, safe, and fun activities to ensure people continued to be engaged and supported during COVID-19. Charmly maintained high levels of service for participants with the main aim to keep up connection despite the pandemic.
Justine Richmond – Kamloops
Group Facilitator, Community Companion Program
Justine created the Community Companion Program which focuses on promoting social and community connections that are founded on respect, shared responsibility, and mutual enjoyment. Justine quickly adapted programs throughout the pandemic to reduce isolation and increase community connection for people with diverse abilities. Justine received two nominations this year! Justine was nominated by her employer, Emily McCallum and song writer and self-advocate, Ben Johnson.
Peter Edgar – Port Moody
President, EDGAR
Peter was nominated by Shari Mahar in recognition of EDGAR's donation of the use of 10 townhomes that enabled her organization, Community Integrated Services Society, to continue to provide community inclusion services to individuals during COVID. EDGAR has also donated land to BC Housing to build 325 units of affordable housing as part of the Woodland redevelopment in Port Moody.
Melissa MacDonald  – Victoria
Manager, Community Inclusion, Lifetime Networks of Victoria
Melissa was nominated by her executive director, Wendy-Sue Andrew. Throughout the pandemic, Melissa and her team have supported very vulnerable people with meal prep, meal drop-offs, tents, blankets, walks, and health checks, in collaboration with the justice system, integrated court, food banks etc. Melissa has also taken her own personal time to walk with individuals who live on their own to ensure they have on-going connection.
This is on CLBC website go to the link here