Written by Amy McMillian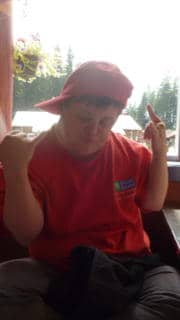 It was just your average day on Vancouver Island when suddenly we got hit with the dark curse.
I was at my own house at the time. I was so angry and afraid because I didn't want to leave, but I had to start packing to go to my parents' home for a while. When my parents drove into the drive way I loaded up my backpack and my monkey pillow, then buckled myself up to wait out this wild ride.
When I got there, I unpacked my things in my old room and then I watched the news to learn about the Coronavirus.
I could not believe how many people this was affecting.Trying to stay positive during this time can be challenging. So, I started writing a gratitude journal for what I am grateful for each day.
This helps me because it makes me think about the good things in my life right now. It helps me feel more positive and confident.
Some things that I am grateful for are walking in the forest with my dog Lucy, because it makes me feel relaxed, walking with my mom and helping my parents out around the house. I also like to Face Time my best friend and go on zoom for art and lunch sessions with the group from Community Link.
I also had a recent success. I felt I needed a project during this time to keep busy, so I started drawing my people characters on cards to sell.
I made up a lot of them and sold them to raise money for the kitchen in the low-Income housing project.
This made me feel excited that I was contributing to a project that I hope to be living at next year which will give me more independence.
During this time, it gave me a chance to make a difference and make changes in my own life too.
We are all different and what we can do is stand up and be Super Heroes to fight this dark curse together.