Kelowna Saturday, June 6, 2020 10:00 AM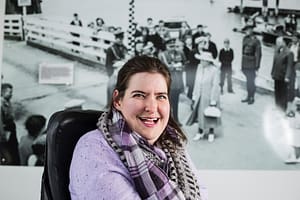 Sarah Lapp-Bourne is a dance artist who uses a power wheelchair. She is also a dance facilitator, a choreographer and a mentor in inclusive dance.
Lapp-Bourne always wanted to be a dancer. She enjoys the process of memorizing choreography, keeping her mind and body alive and active. As she puts it, "Dancing is an expressive outlet for me to share meaningful stories with a viewing audience."
As a child, Lapp-Bourne started exploring creative ways to move alongside her peers in gym class by designing her own dance routines. Over the years and under her own initiative, she was able to find additional opportunities by attending conventional dance classes and adapting the movement.
In 2014, Lapp-Bourne co-founded the Vancouver All Bodies Dance Project, an inclusive dance company that brings together artists of all abilities to explore creative possibilities.
"Until All Bodies Dance was formed, consistent programming was not available to me. It has become my mission and career goal to implement sustainable and year-round inclusive dance programs throughout B.C.," Lapp-Bourne said. "People with disabilities rarely get the chance to move their bodies in a creative way."
In 2018, she brought All Dance Bodies to Kelowna. "With a grant from Disability Alliance BC and the Province in 2019, I was able to continue facilitating local classes with dance studio owner Lucy Hazelwood. Our teaching team provides examples from the perspective of a standing body and a sitting body."
Her current project is Exploration Dance Kelowna, and anyone is welcome. The aim is to bring together people with and without disabilities to explore movement and create. "We strive to provide an open, safe and fun environment, where everyone can experience the joy of moving and creating within a diverse community. I am excited to be creating more opportunities for artistic activities that promote healthy and inclusive lifestyles in the Okanagan."
One of the dancers in Lapp-Bourne and Hazelwood's classes has severe rheumatoid arthritis. "I never thought I'd be able to participate in a dance class," Rachael Kimola said. "I always thought in order to dance, you had to be able to move a certain way, but Exploration Dance is about doing what you can and just enjoying movement in whatever form it takes for you. It's very freeing."
When asked about classes during COVID-19, Lapp-Bourne said, "Like most community projects, it was difficult to move from an interactive group, working together, to then having to navigate keeping the project going while being physically distant in a field that is about creativity and connection."
In April and May, they took classes online. "Not only did our local participants join us through video conferencing, but it provided an opportunity for anyone to join us – no matter where they live. This pandemic has closed a lot of physical doors for our program, but it has also opened up many virtual opportunities to reach a broader group of participants and even audiences. We look forward to our next session in the fall when people can come together in person and virtually to create some unique dances."
All Bodies Dance Kelowna is one of 16 organizations funded by the Province last year to celebrate AccessAbility Week.
In recognition of AccessAbility Week, May 31 to June 6, 2020, the B.C. government is highlighting some of the individuals and organizations that provide important services to people with disabilities.
Learn More:
B.C. government accessibility initiatives: www.gov.bc.ca/accessibility
All Bodies Dance: http://allbodiesdance.ca
B.C. AccessAbility Week 2020: https://news.gov.bc.ca/releases/2020SDPR0031-000964
Disability Alliance BC: www.disabilityalliancebc.org
This on BC Govt Website go to the link here