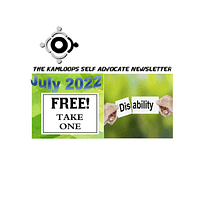 The Kamloops Self-Advocates is a
newsletter for people with diverse abilities
published by Krystian Shaw.
July Edition of KSA Newsletter 2022 contains in
Welcome to summer! The weather is starting to heat up and everyone is starting to think about fun, outdoor activities as school finishes and holidays begin.
Learning doesn't have to stop with school though. This month, we have lots of great things for you to learn about with the great articles.
In this newsletter you will learn about a safe website for those with diverse abilities. There is also an article about BC People First and how they are educating people about inclusive language and why words matter. Please treat people with respect, kindness, compassion, and love. Treat them with equality, social justice and care.
People should not be discriminated against and please don't judge people before you get to know them.
Click here to read the newsletter KSA July 2022 online (1)
Do you have a story idea or an event you think would be interesting for our readers?
Please subscribe to the Kamloops Self Advocate Newsletter to receive a newsletter each month with
interesting and inspiring content Contact us at:
Email thekamloopsselfadvocate@yahoo.com
113-540 Seymour St,. Kamloops, BC V2C 2G9
Office phone: 250-828-1344